Captain Custard
Guitar-Vocals: Malcolm Hayman
Lead Guitar - Vocals: Freddy Loveridge
Bass Guitar-Vocals: Murray Loveridge
Drums: Peter Walker

Above: lineup 1976/77ish - left to right: Murray Loveridge, Malcolm Hayman, Dave Alexander, Don Burke, Nutz the dog.
Above: Malcolm Hayman - Murray Loveridge - Peter Walker - Freddy Loveridge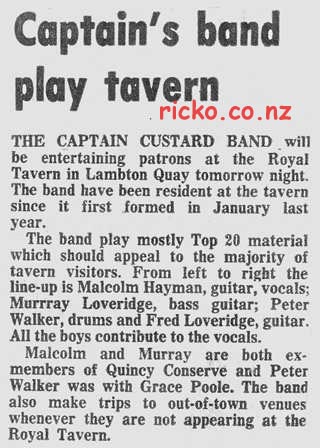 "Captain Custard" 1976 - (originally called "Captain Custard and The Prunes") but dropped the name "prunes" because the local Wellington newspaper told the boys it took up to much room two columns to print, also local fans from their residency at The Royal Tavern and The 1860 pub Lampton Quay Wellington gave them a hard time about the "Prunes" bit, so they just became "Captain Custard". - Great covers band playing popular album material such as The Eagles, Bee gees, The Rolling Stones, Steve Miller Band, Rod Stewart and The Faces...etc.(Information and pictures C/- ricko.co.nz NZ Circuit Bands and Musicians).
Pictures and info supplied by Murray Loveridge